Content syndication is intended to make articles from one client (A) automatically available to another client (B) in a group of clients without having to copy the articles and images. This is done with an RSS/Atom feed. Of course you can also export RSS/Atom feeds or import them from external websites. However, if you want to use feeds from external websites, a commercial use of the feeds is only allowed with restrictions.
Required objects
Article

Article export

Article import

Procedure
Create a new article or use an existing article.
Create an article export in client (A), in which you insert the articles to be distributed.
Create an article import in client (B) and insert the integration URL from the article export, or the URL of an RSS/Atom feed.
Fields of application
Make contents (articles) available to several clients automatically.
Publish contents (articles) as RSS/Atom feed, e.g. as news ticker.
Import contents (articles) from RSS/Atom feeds.
Create a new news source (client A)
Create a new article export in the Web folder or use existing articles and insert the articles you want to distribute into the object picker. For a detailed description, see the article: Article export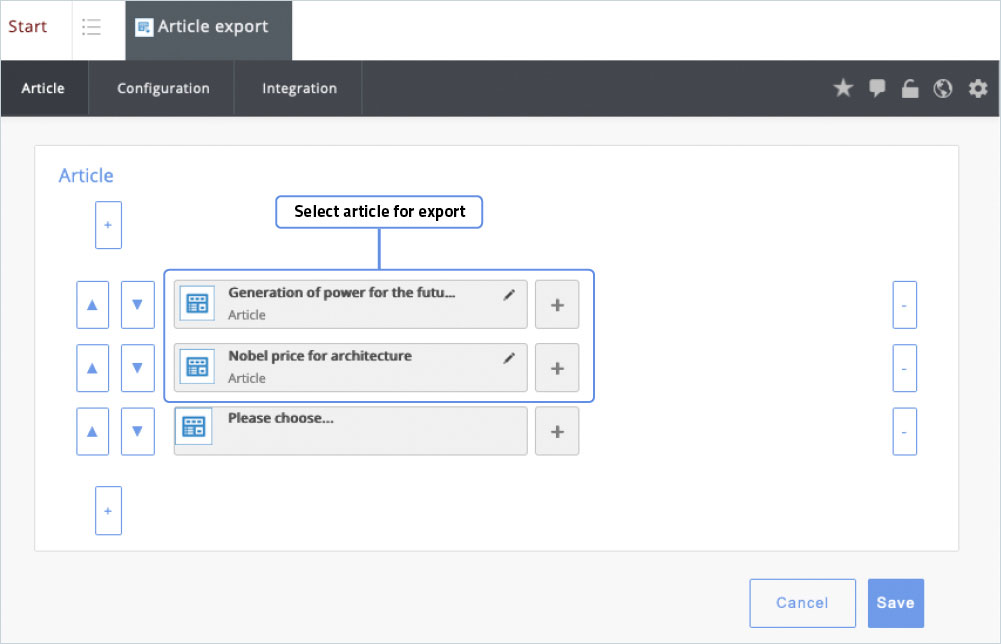 Under the Articles tab, you can use the Object Picker to select the articles for export.
You assign all relevant articles to this object and click on the Save button. The feed created in this way can be called up immediately with a feed reader.
Procedure for an article import
Import news from a source (client B)
Create a new article import in the Web folder and insert the feed URL, then select a suitable article type. You can find a detailed description of this in the article: Article import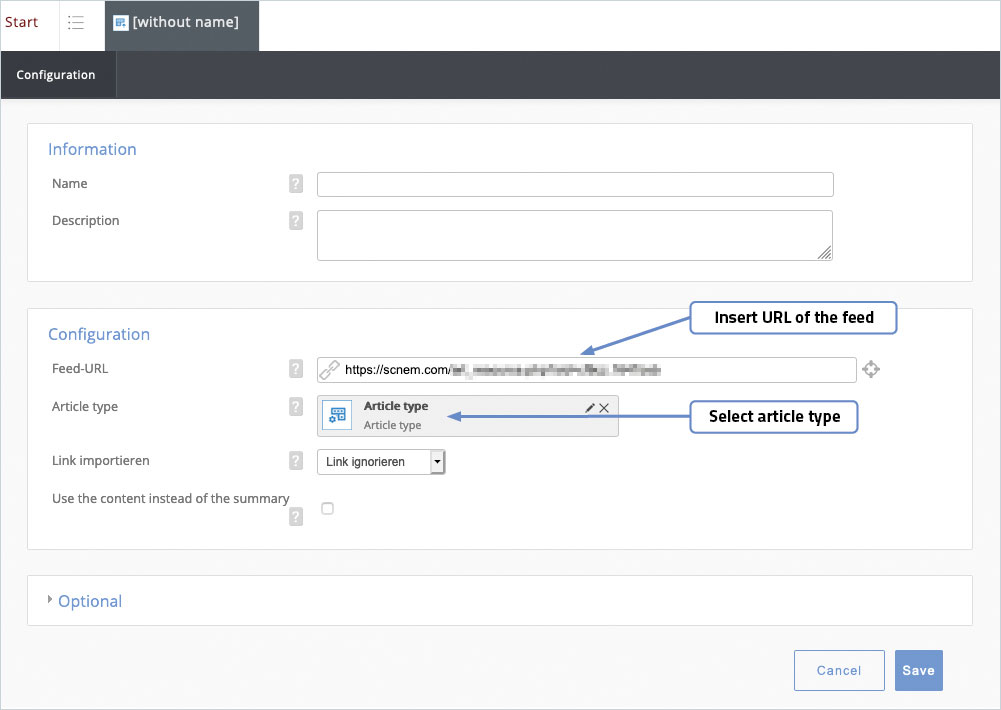 If you have inserted the URL of the feed, you still have to select the article type so that the content can be inserted into the article.
When you call the RSS/Atom feed reader, the system displays all the current feed articles that you can import as articles with one click. The articles are stored in the Articles folder and the images of the articles are stored in the Images folder.
Each RSS/Atom feed reader you create is automatically displayed under Start on the desktop.
Note!
You can find the URL of the source feed in the Preview view within the preview window.