Starting point: Persona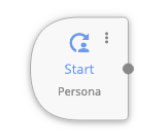 The starting point "Persona" automatically imports profiles that have been assigned to a specific persona. A multiple run is not allowed at this starting point. So each profile can only run through this campaign once.
Configuration
Under settings you have to select a "persona". All profiles which can be assigned to this persona will be automatically imported into the campaign.