Condition "Milestone reached"
The condition "Milestone reached" checks whether a profile has reached a milestone or will reach it during a test period.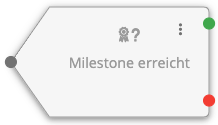 Configuration
Milestone
Select the milestone to be checked for.
Waiting time from reaching the node
If the selected milestone has not yet been reached when this node is reached, a maximum of x days and y hours is waited before the condition is evaluated. If the profile reaches the milestone within this time, the waiting period ends immediately.