A PrintMailing is a printed and enveloped mailing. It consists of the content and an envelope that can be sent by post to your newsletter recipients.
To implement a print mailing, please contact your sales contact person and discuss the layout and contents of the print mailing. According to your specifications, the layout of the print mailing will be created and a PDF will be generated from it, which will be sent to the service provider PIN. The service provider uses the PDF to create the PrintMailing template for the mailing. The dynamic and static contents are defined in this template. The dynamic contents are inserted into the PrintMailing via the replacement variables as soon as a PrintMailing is to be sent.
The implementation of the PrintMailing template is done by the service provider PIN.
Once the template is completed, the data for the assignment area ("Customer" "Job" "Campaign", "Parameter Mapping") is returned and entered in the respective fields. The print mailing is then tested for appearance and functionality and can then be used in a campaign in the Campaign Designer.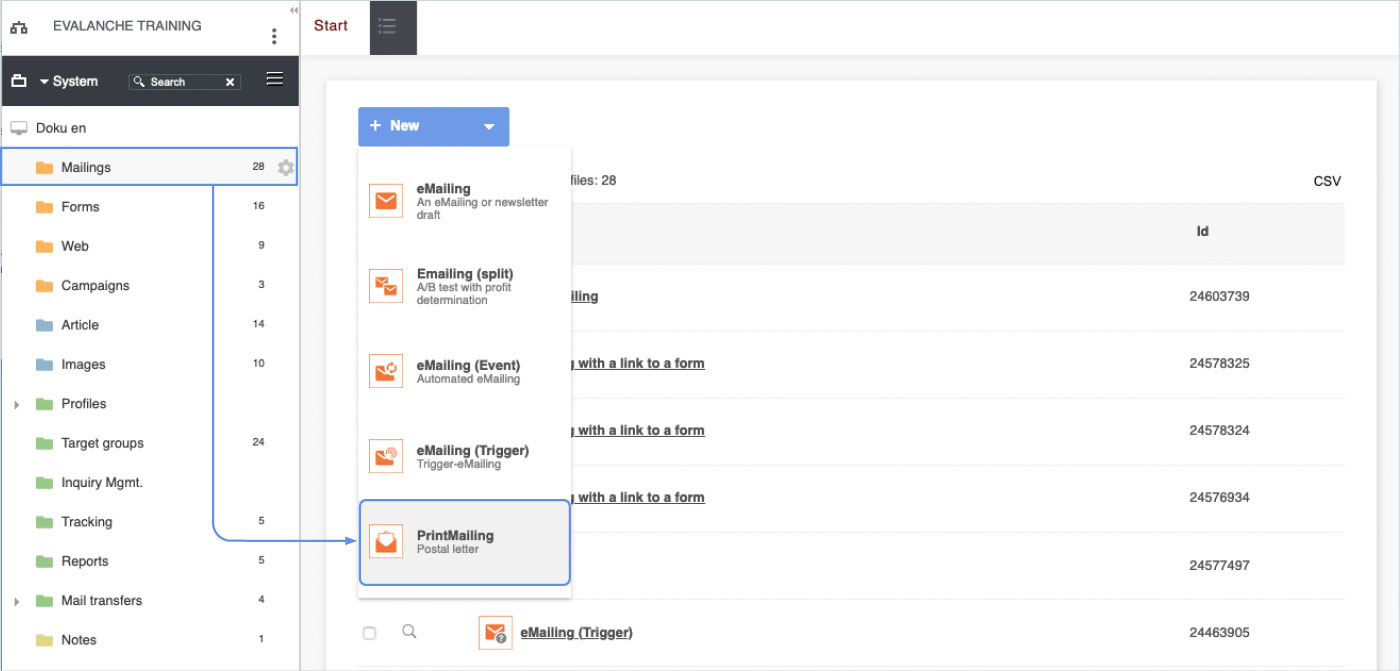 A PrintMailing is created under the Mailings folder by clicking + New, PrintMailing (Postbrief).
Preview
The preview shows a screenshot of the selected mailing and the previous statistics of successfully completed and unique profiles.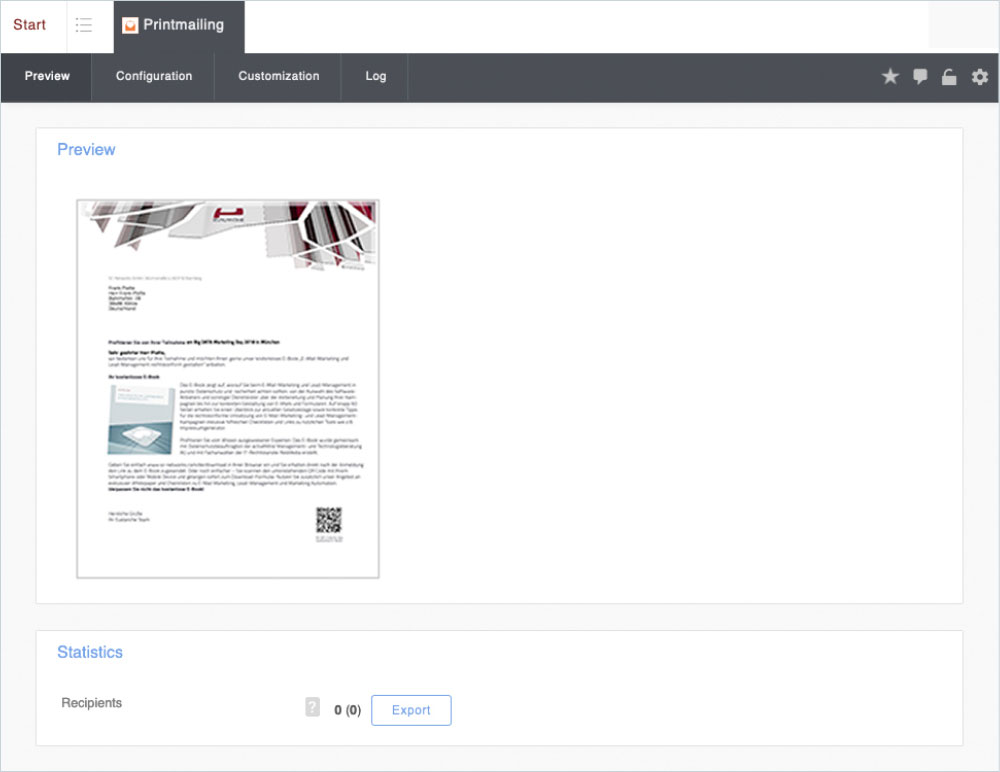 If a preview image is entered in the configuration, it is displayed within the Preview tab.
Configuration
The customer data and the code snipped for the allocation of the dynamic contents are inserted under the item allocation. The code snipped is provided by the service provider and inserted in the Parameter Mapping area.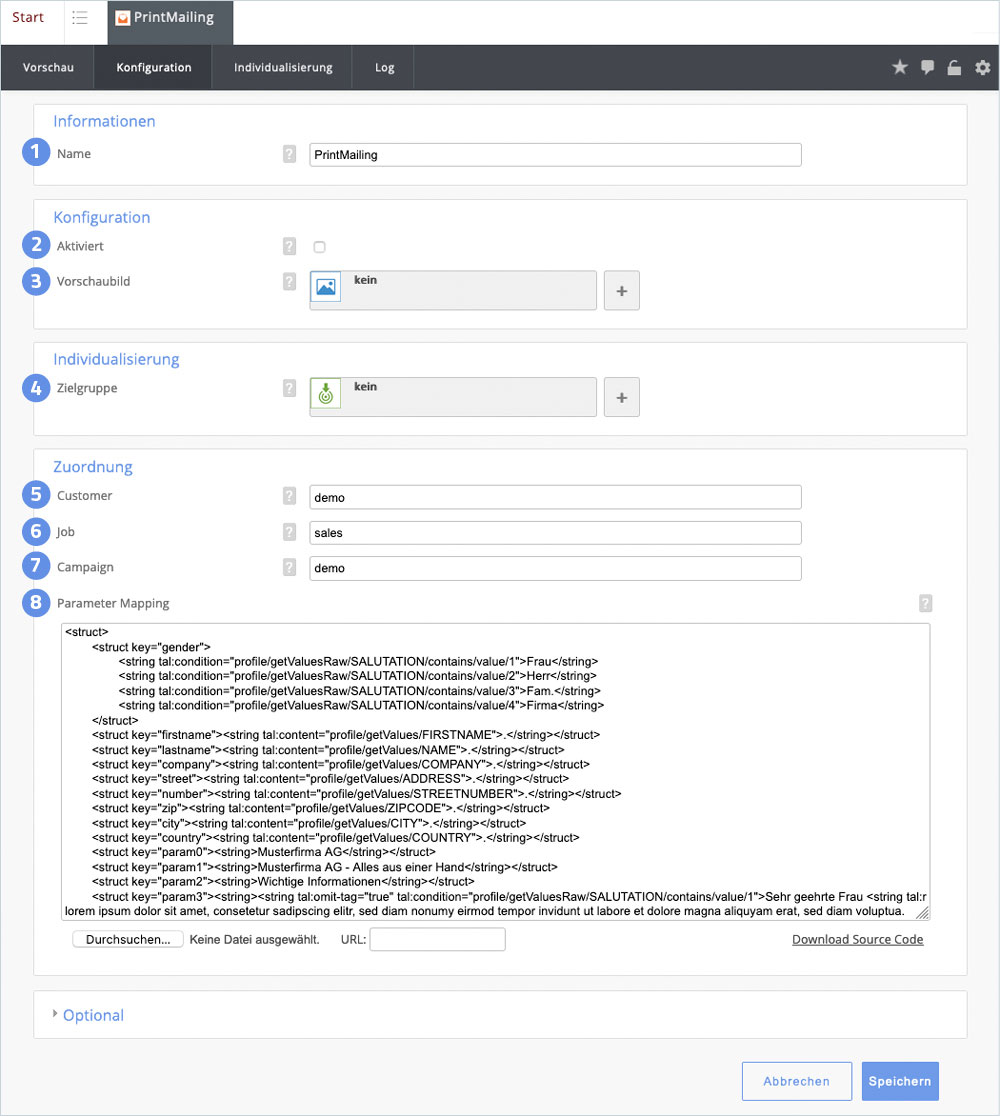 Name: Name of the print mailing.
Enabled: A check mark allows sending the PrintMailings as part of a campaign.
Preview image: A preview image can be stored here.
Target group: Here you can enter a target group for an individualized preview of the mailing.
Customer: Name of the customer with PIN.
Job: Name of the job with PIN.
Campaign: Name of the campaign at PIN.
Parameter Mapping: Code snippet from PIN with the assignment of the profile data to the PrintMailing template.
Show customized preview
An individualized preview of the mailing can be displayed for profiles that are marked as persona or are in the target group for an individualized preview.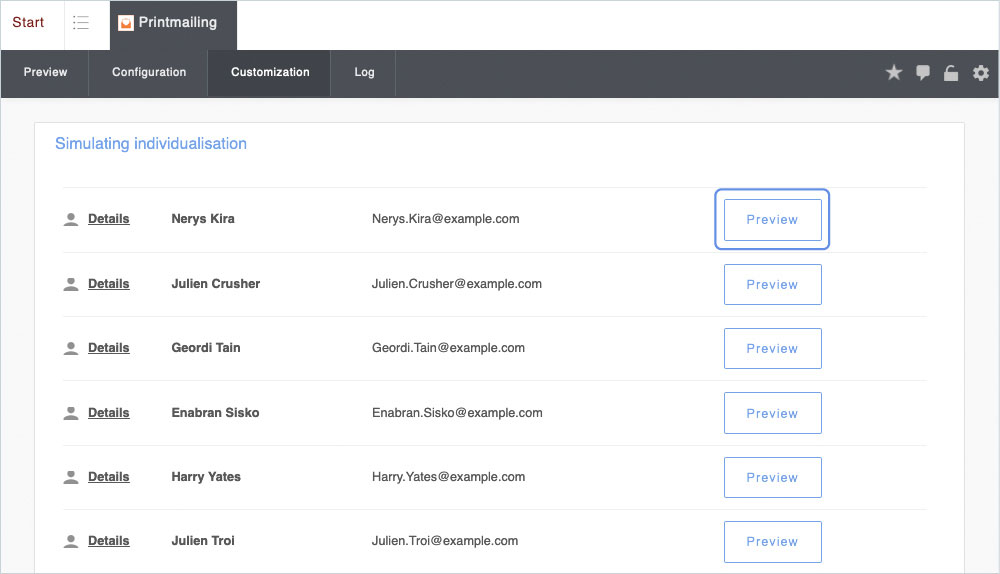 Under the Individualization tab, you can select a profile and display a preview of the mailing in question.
PrintMailing Log
The log file provides information about the loaded profiles.
PrintMailing in the campaign
To be able to send a PrintMailing, the PrintMailing must be activated in the configuration and included in an active one, only then a sending is possible.
A PrintMailing can only be sent with the Campaign Designer within a campaign.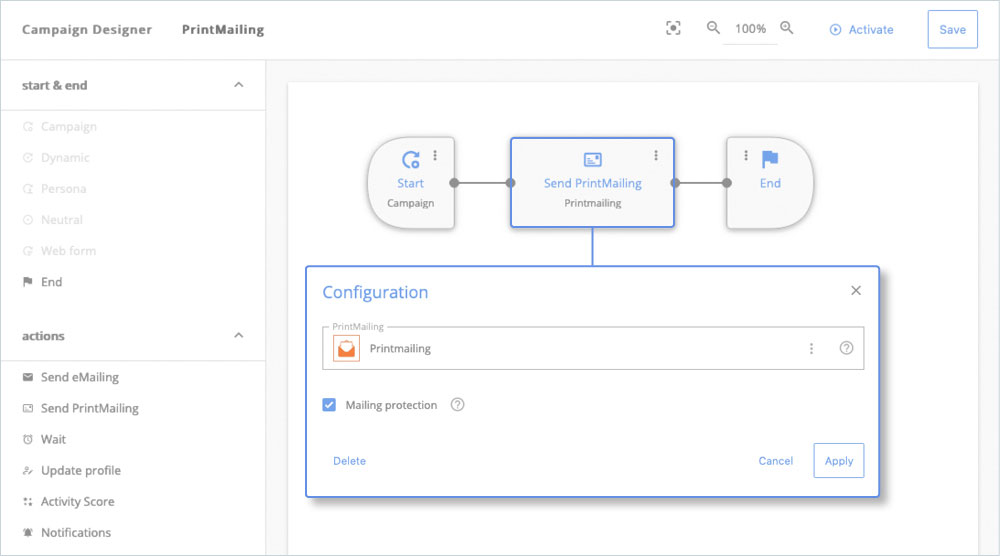 A PrintMailing can only be sent with the Campaign Designer within a campaign.
Please note!
When sending a print mailing, there are costs for postal dispatch.